Archive scanner - the solution for small and large digitization work
The SensiShot® archive scanner is the perfect solution for small and large municipal and university archives. All other institutions that have to digitize very heterogeneous inventories are also on the safe side with this system.
Files, estates, maps, certificates and photos must be available online. An archive, library or museum that wants to keep up must follow this path in order to continue to be viewed by researchers as a relevant source. But high-quality digitization has its pitfalls. Especially with different media types, many institutions quickly face major challenges. Because many different devices not only require a lot of space and require a long training period. Above all, they are expensive. This is where Walter Nagel's archive scanner comes into play.
Digitize stocks quickly with the archive scanner
Take a picture of a medium, save it and upload it to the archive or museum website – in theory, digitization sounds very simple. But what works on the home computer is not a sensible way for institutional use. Because the objects that need to be digitized all have different requirements and are also often very fragile.
You need a large scan format for newspaper volumes and a transmitted light table is used for slides or film strips. And if you want to digitize seals, coins or objects, you will face completely new challenges.
Perfect configuration of the archive scanner for every task
The archive scanner has a modular structure and can be converted into exactly the system you need in just a few simple steps. Files, books, documents but also coins, seals, slides or glass plates can then be scanned with the necessary care and in perfect quality. An archive scanner is therefore the ideal choice for smaller institutions in particular. After all, it fulfills all digitization tasks with flying colors and is also handy enough to find space even in small rooms.
Benefits of our Scan Station for users in archives
In contrast to specialized book scanners, a scanning station can be used much more flexibly. With our solutions, you can digitize your archive holdings quickly, reliably and with high quality:
A resolution of 6,000 dpi is required for slides, film strips or glass plate negatives. This is also easily possible with the archive scanner. Equipped with a transmitted light table, the recordings are detailed and without losses.
The system is ideally suited for the documentation of the restoration work. Quickly and easily create high-quality scans of the entire template or detailed images of damage.
The archive scanner allows you to digitize all items stored in the archive. Files and books can be scanned just as gently as certificates with seals, cards or coins. Even large volumes of newspapers or church registers can be processed quickly and easily.
For the digitization of seals, coins and similar objects, resolutions well above the usual 300 or 400 dpi are used. In combination with individual light settings, you get perfect shots.
Further details on the technology used and the possibilities can be found on the associated archive scanner product page. If you are interested or have any further questions, our consultants will be happy to help.

Buchhalterung/Buchwippe am Archivscanner von Walter Nagel

Webinar-Mitschnitt: How to start with digital preservation

Digitalisierung mit dem Archivscanner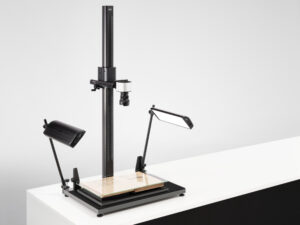 SensiShot94-Archivscanner mit Buchhalterung

SensiShot94-Archivscanner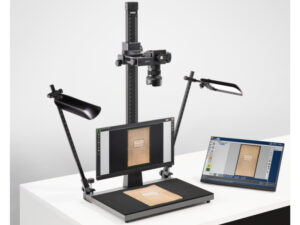 SensiShot62-Archivscanner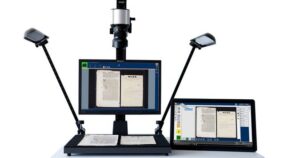 Archivscanner-Arbeitsplatz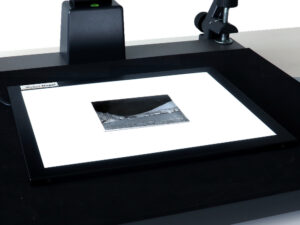 Glasplattennegative mit Durchlichttisch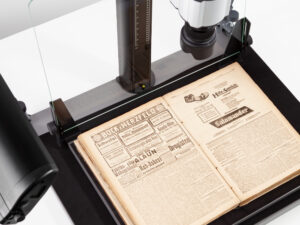 Zeitungen digitalisieren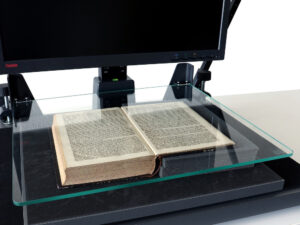 Buchwippe mit Glasplatte am Archivscanne

Digitalisieren ohne Glasplatte

EAGLE-Kamera

Archivscanner (Simon Schwinge für picturesafe management GmbH)